Ducati Monster 1100 2009 Project
Target was to see what different stages of tuning makes for a bike like Ducati Monster 1100 and to be able to give good suggestions on performance level. The motorcycle is a Ducati Monster 1100 with 13000 Km on the meter.



The first goal was to see what you can achieve with just adjust the injection and ignition. Started with get a good baseline curve in the Dyno. And optimized fuel and spark maps to see what kind of HK a Monster 1100 original gives.








The next step was to test perhaps the most common mod on a Ducati Monster 1100. Ducati Performance slip-on with the performance ECU and air filter and to compare it with the standard exhaust system. To get a fair comparison the DP ECU was maped this was done because Ducati Performance comes with a generic mapping.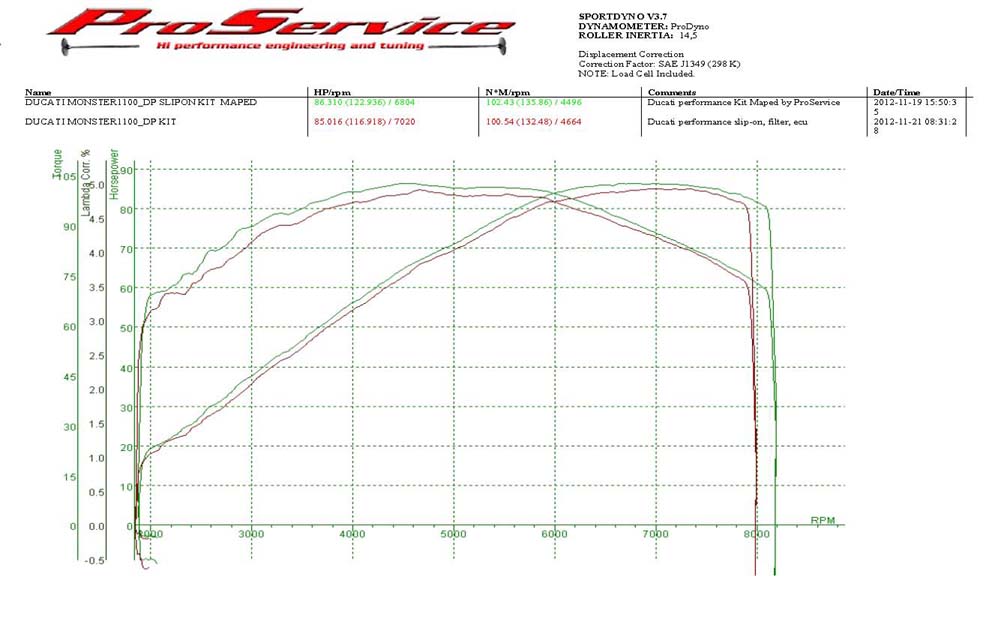 Result after mapning Ducati performance kit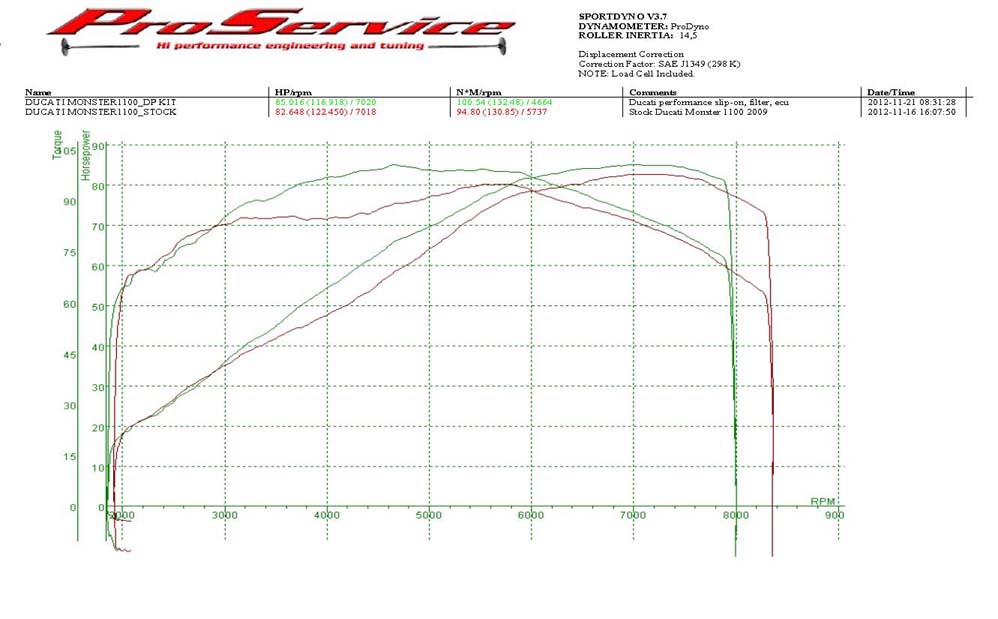 Comparison Ducati Performance kit and original systems unmaped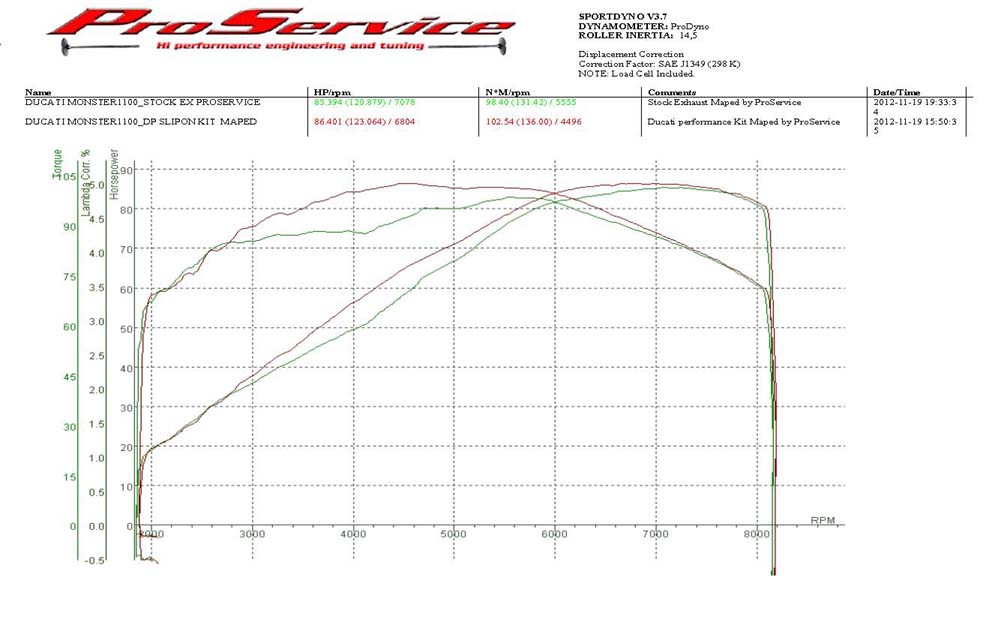 Termignoni slip-on compared to original exhaust with optimized ECU



As a third step, we chose to test the Arrow exhaust as an alternative slip-on system to Termignoni the differences were not significant. Both exhaust systems were tested with open air filters and optimized ECU for fair values. From a power perspective, we came to the conclusion that there is no considerable difference in the slip-on that we tested. However, what was a bit surprising was that it required very large differences in mapping both on the ignition side and fuel to optimize each slip-on system.








Step five was to test what a MWR filter kit with power up kit giving for a power gain. This was tested with Arrow Slip-on and with Arrow ful exhaust. These tests were performed with optimized maping for each exhaust. The filter kit did lose torque at low RPM but this was recovered by the front collector from Arrow. Arrows collectors are made so that they can be used on any slip-on that fit the original collector.








Regular aftermarket filters compared to that of Ducati performance compared with MWR filter kit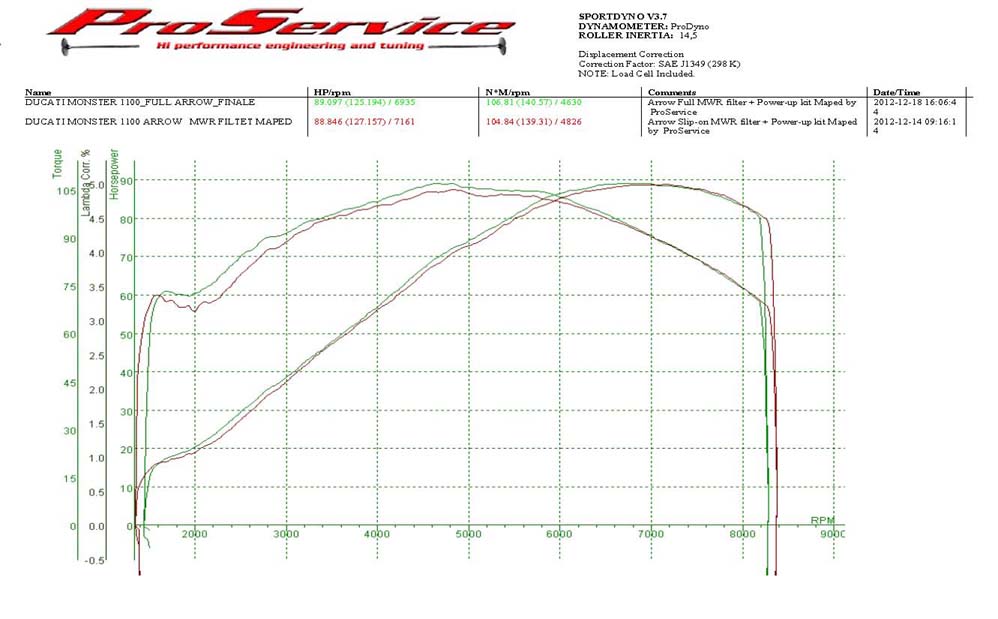 Arrows collector mounted gain the lost torque at the bottom and then some.



Now it was time to rip off heads and cylinders for porting and piston teflon coating the cylinders was honed and that new piston rings was fitted.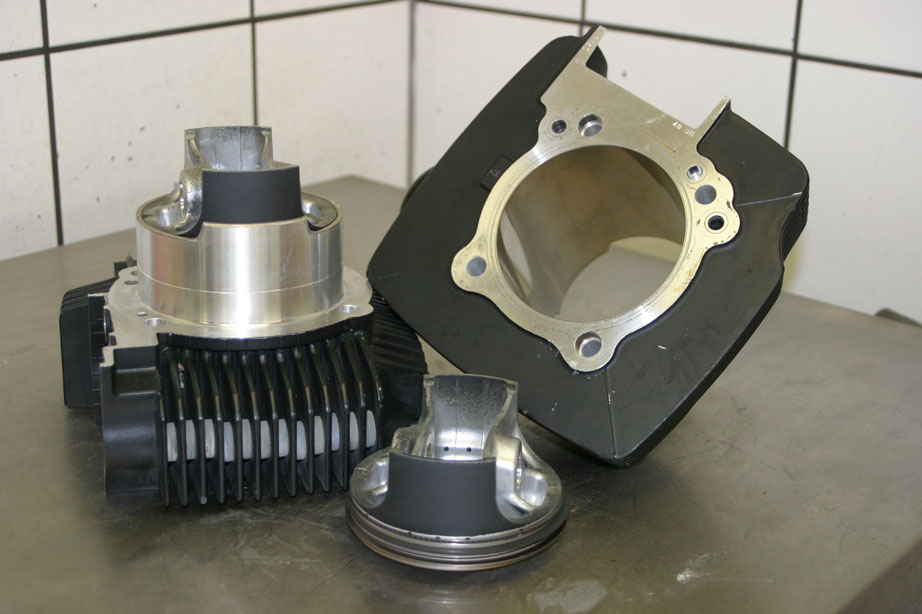 Teflon coated pistons allows the run tight piston clearance and still decrease friction. Our teflon coating is a special type of silver teflon coating for increased heat dissipation.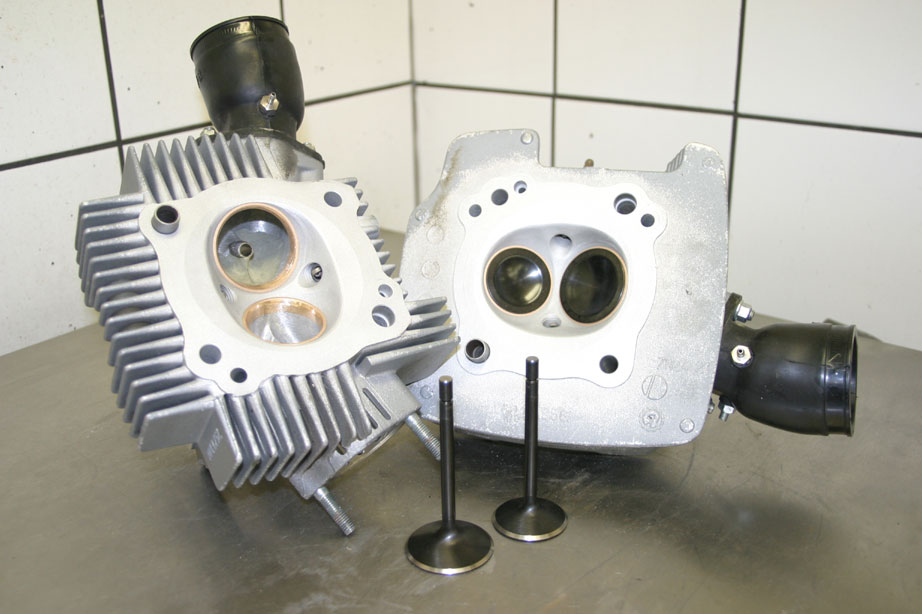 The head did get a stage2 porting with epoxy and welding off the exhaust channels 1mm larger valves mounted and seats cut.





Cylinders and heads was fitted with adjusted squish keep STD compression after modification of the combustion chamber. And the camtimnig was adjusted to the desired values.




Then it was time to return to the dyno. This time with Arrows full systems as well as full MWR kit and standard camshaft. Next step was to mount and time Ducati performance cam kit result was an increase in the peak power but it lost too much torque in low RPM. Tested also to move the camshaft to compensate for the torque loss but torque was gone. Since Ducati Performance camshaft is discontinued from Ducati and cannot be ordered any more we wanted to see whether there was some good alternatives. One set of Monster 1100 EVO cams where purchased. They got measured up and timed to our own specs. An accepted torque loss against benefit of peak power with a smooth and nice curve achieved with EVO cams. The ECU was optimized both on the ignition and the fuel side. Bear in mind that this is a Monster street bike with standard compression. The conclusion is that DP cam needs more compression to work good and perhaps best suited for track driving.







A litle conclusion
Which slip-on and which filter you choose is not essential but you must be careful to adjust the fuel injection to his MC. Most performance for the money is get by porting heads and installing a collector if you have a slip-on pipe mounted. If you want to go ahead and get a camshaft, I would recommend EVO cams for street and DP kit for the track or if you have high comp pistons. All dynoing was done with optimized ECU this to try get the fairest possible outcome. Optimization of ECU's Determines how the result is an engine optimization. The goal of this project was not to find the maximum power the goal was to try presenting an alternative To make a fun bike even more fun at a reasonable cost.



Three steps to get better power and a more monster like Monster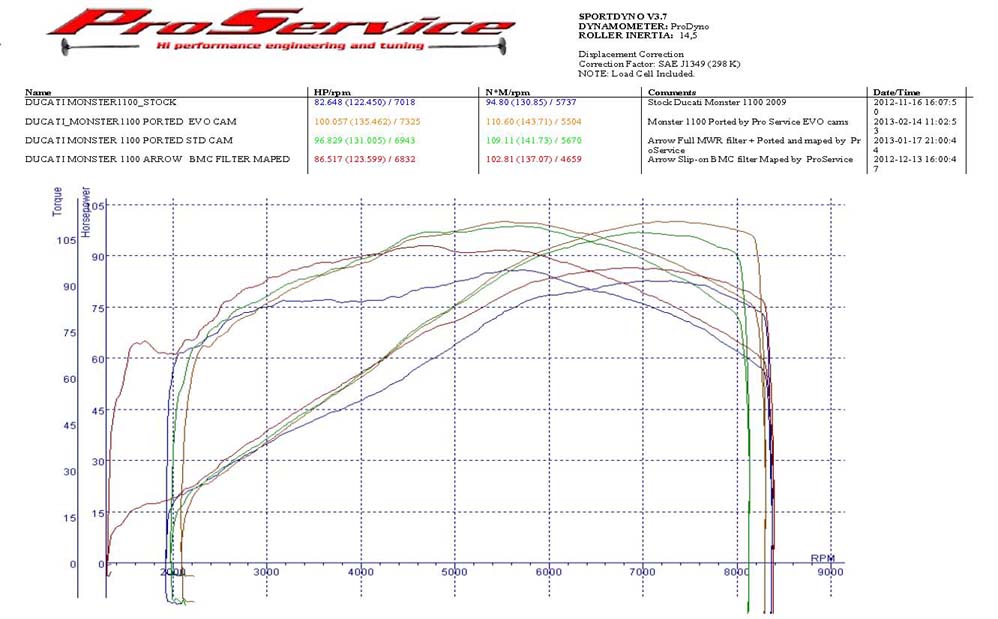 Managed to get my hands on a Termignoni full system that was mounted and tuned. Maybe not a fair comparison the Termignoni system is almost twice as expensive and can not be ordered from Ducati.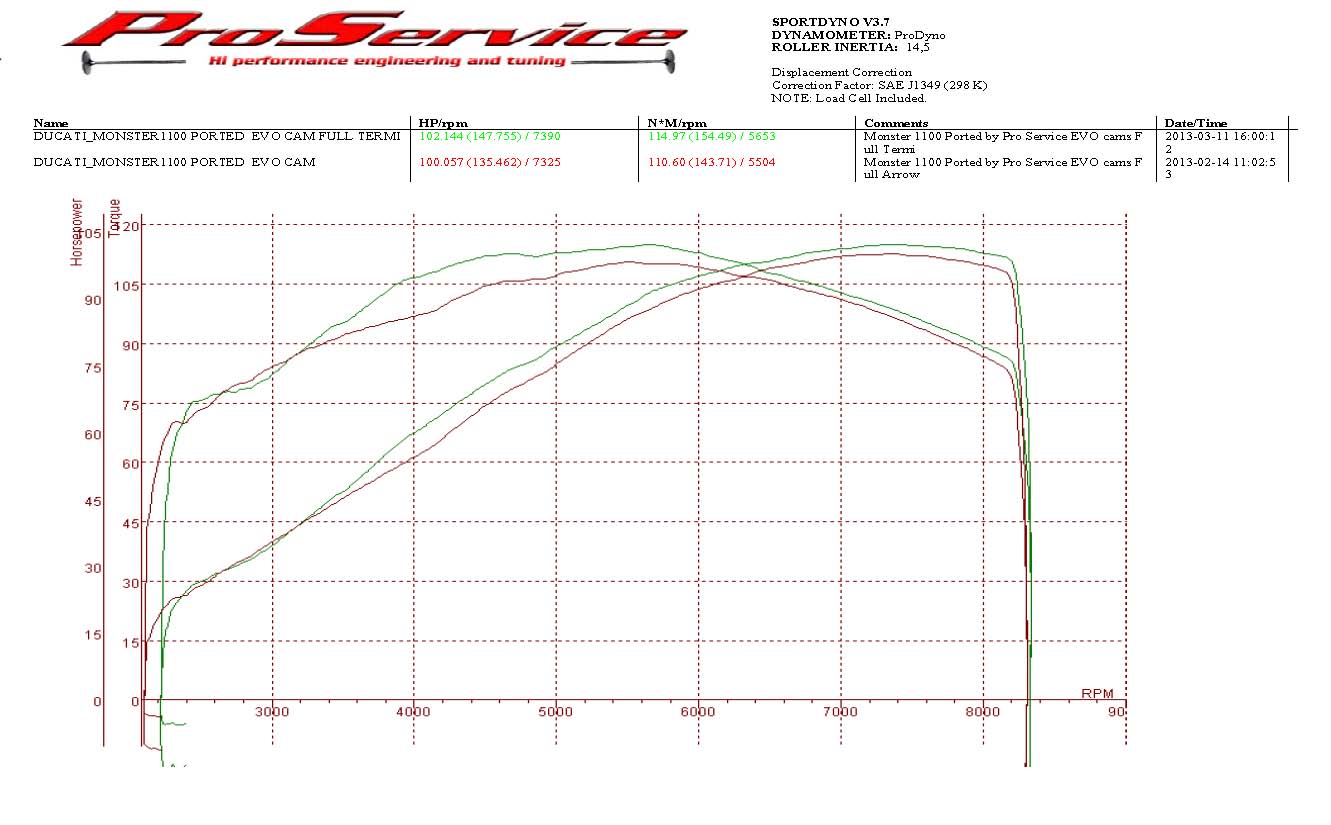 Had to do some updates to upcoming summer 2014. It has been fitted with new pistons and 102mm steel sleeves. Ducati Performance cams mounted and timed for torque. Intake side was the modified with bigger throttle bodies and more openings in the air box. The same exhaust system used still have not found anything better yet.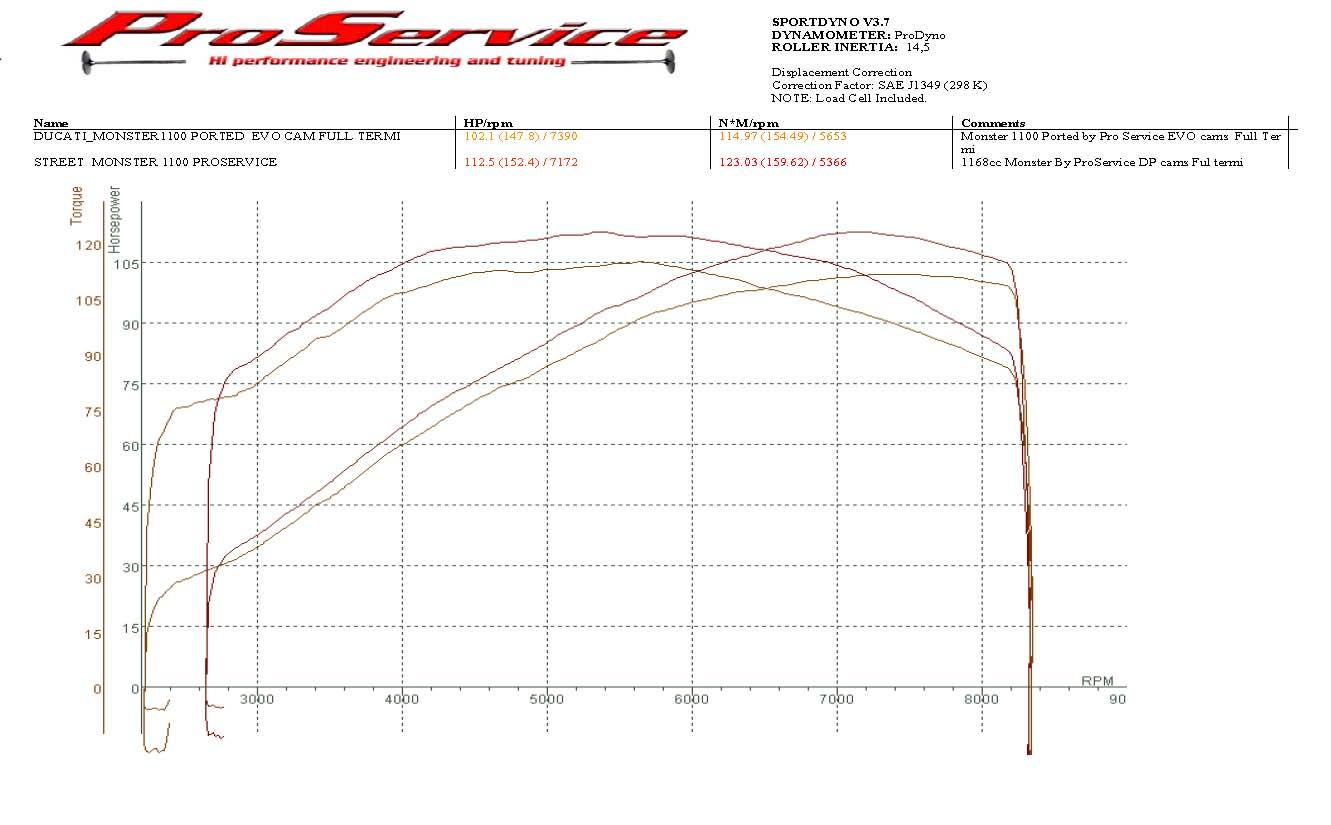 Hem | Hitta oss | Verkstad | Bromsbänk | original ECU mappning | MoTec System | Spridar Service | Kamaxel analys | Teflon beläggning kolvar | Special Kolvar | Special Ventiler | Länkar | Prislista | EMAIL
Design by Erik Larsson